Soi 6, a favorite destination in Pattaya, Thailand for male travelers.
Soi 6 runs between Second Road and Beach road just north of Central Mall. There are over 30 small bars on the street, most of them open-air in the Girlie Bar variety with stools lining the street and tables and a bar behind… and most with stairs to short-time rooms. In Pattaya, this is your go-to for cheap beer and cheap sex.
Updated August 2019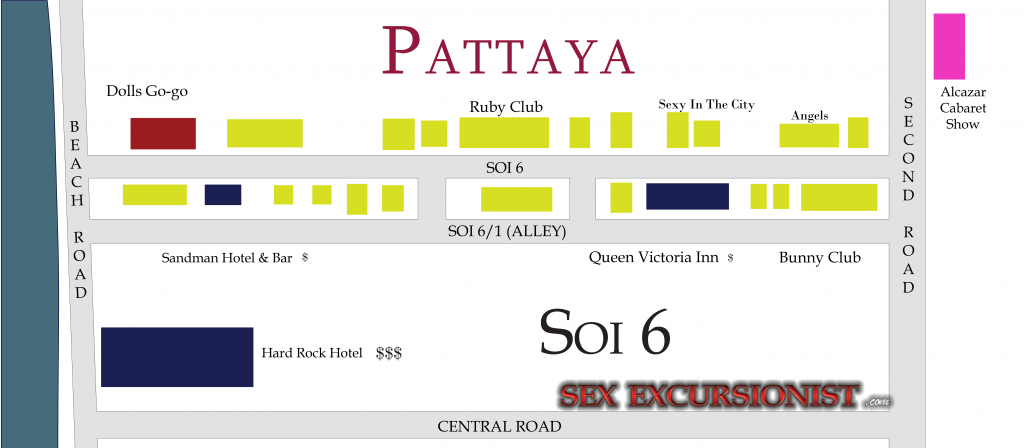 Excerpt from Sex Excursionist volume 2:
"In that city of depravity, Soi 6 stands out. It is the city's tacky mecca of sex. The bars there cater more to the short-term barfine, with old hotels interspersed that don't even pretend not to be brothels. There might be more used condoms flushed down the toilets in that dingy back alley in a 24-hour period than the whole of Beach Road. The entire street is one big lineup. Men strolling down the street are beset on both sides by bargirls sitting in front of their bars or at a small bar overlooking the street. The finer of the ladies may be positioned standing in the middle of the street for enticement.
While the impersonal nature of Soi 6 did not appeal to me, Ben was at home. He would flirt with any girl to approach, copping as many free feels as he could, usually as I stood back and waited. I've never been into it. Perhaps I was trained at a young age not to touch, but I never saw the attraction in touching a woman just for the sake of the touch. It's as if Ben's day was defined by how much skin he could invade.
The girls varied in their reactions to him. Some saw his menacing groping paws as a threat and kept their distance, while others accepted the ass pats and belly caresses as necessary to win a customer."
Soi 6 Girlie Bars
Soi 6 is known for being a "no-bullshit" place to acquire sex. Girls there are not picky, they will go with most anyone who has the money, unlike the more pretentious go-go bars on Walking Street.
And drink of course… the thrill of Soi 6 is sitting down for some beers to people watch and fondle the girls, before taking the lucky lady upstairs, coming back down, and doing it all over again.
The talent in each bar will vary from day to day. New girls are bused in from Isaan and wash out or find a boyfriend. Because most beautiful girls don't aspire to work on Soi 6, there isn't a bar that employs stable hotties. You just gotta barhop, to find the fresh ones.
Soi 6 Barfines
Short time: 1500 – 2500 Baht
After paying the girl's fee and the room fee, 1,500 is about as low as it gets on Soi 6. The lowest I've seen reports of recently is 1000 for the girl and 350 for the room, though most girls will ask for more and the prettier, skinnier ones will never go this low.
Long time: 3000 – 5000 Baht
Girls on Soi 6 expect to do short times and as many as possible. Some of them don't want to do long time. They have a family or boyfriend they need to spend the evenings with. But many will appreciate the long time barfine and hanging out through the night and sleeping in a comfortable hotel.
Ruby Club
This bar sits in mid-street. What makes this bar stand out is its social media presence. You can find them on Facebook. Follow them to see their new selection of girls.
Dolls Agogo
At the time of this writing, Dolls Agogo was the only known go-go bar on the street with the feeling of a small go-go on Walking Street or LK Metro.
Soi 6 Hotels
While Soi 6 is lined with rooms for rent, most cater to the hourly customer. Still, any bar would be happy to let you sleep it off for a night. Finding a bed is not a big issue.
These hotels are recommended for a longer stay. If your goal in Pattaya is sex and drinking, getting a room on Soi 6 you can stumble back to every night is the perfect option.
Queen Victoria Inn
Staff is great in this hotel sitting smack on Soi 6. The small and simple, yet tasteful rooms make this a great deal. The air-conditioned restaurant is a great place to treat your lady to for dinner.
Price on Agoda: $25 USD
Pattaya Discovery Beach Hotel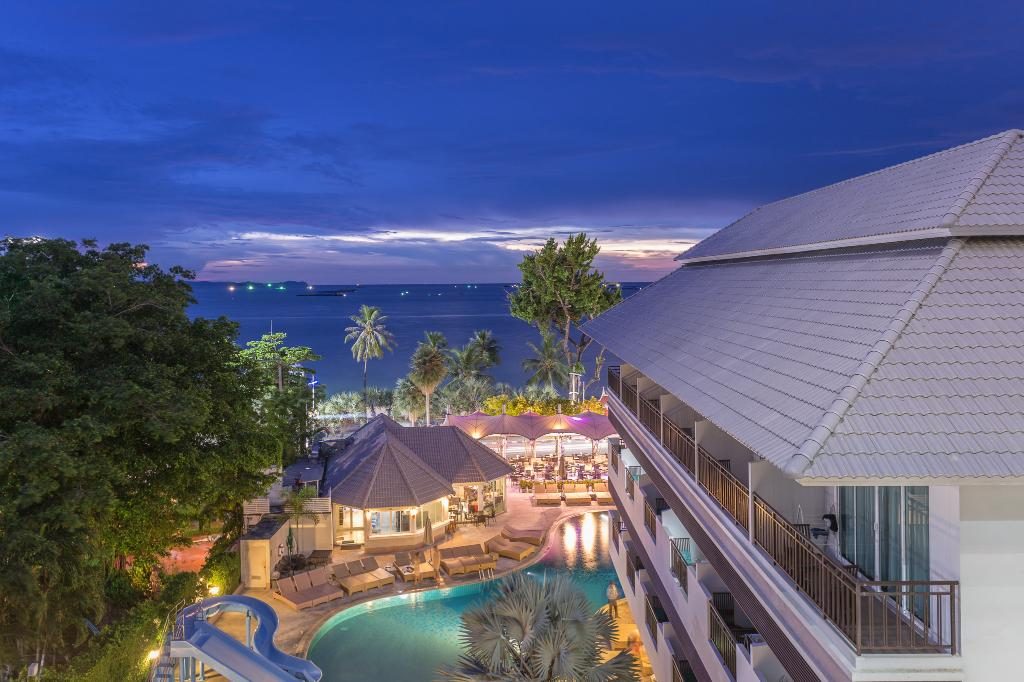 To be close to Soi 6 but still enjoy an Oceanside Resort setting, Pattaya Discovery Beach Hotel is a good option and just around the corner.
Price on Agoda: $53 USD

Back to Sex Excursionist Pattaya Guide!

Tags: pattaya bar, pattaya barfine, soi 6