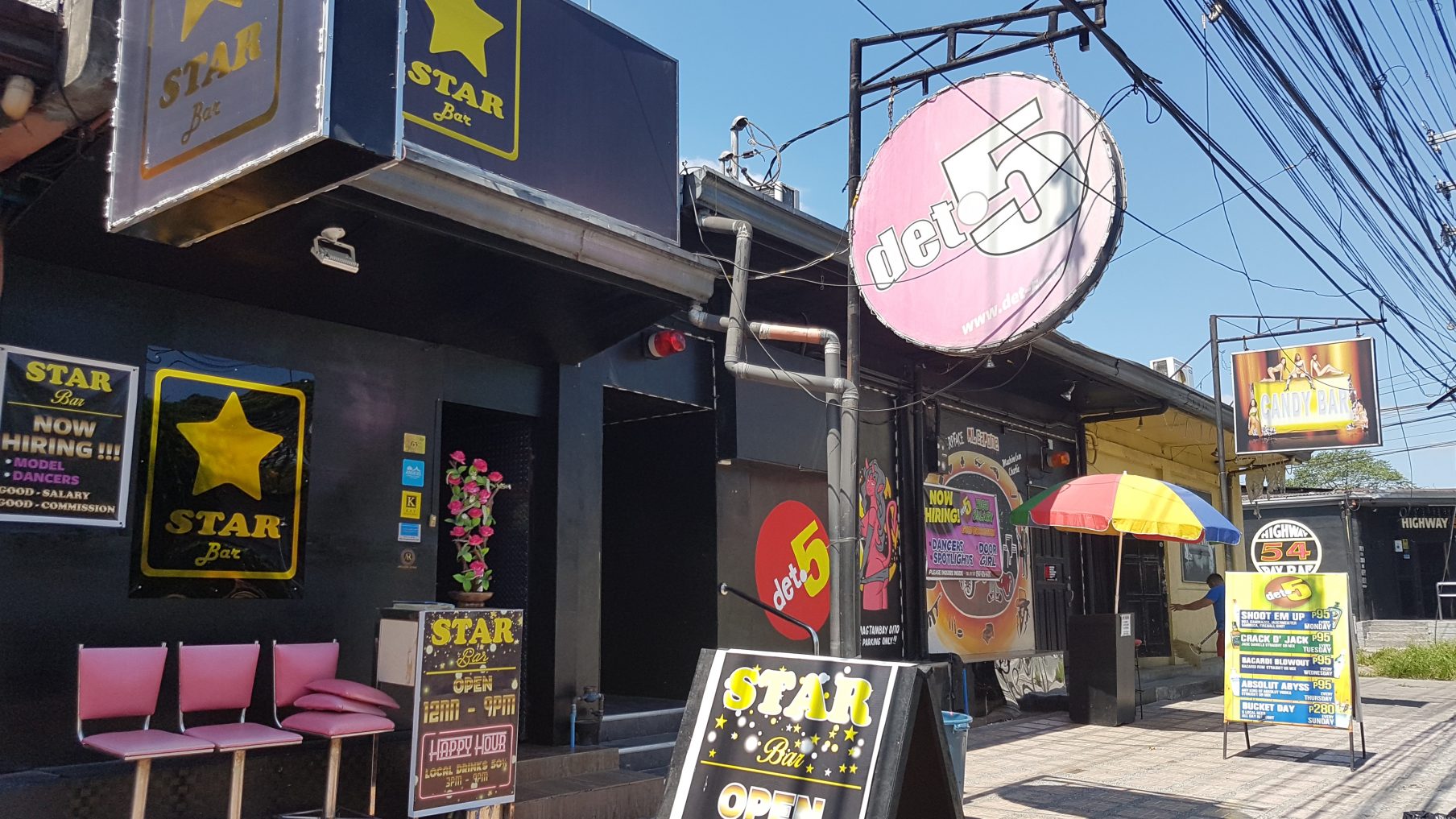 Angeles City Perimeter Zone 2
Nathan Renly | September 18, 2019

Perimeter Zone 2 is as raw as it gets in Angeles City. And as Cheap. Here you'll find a laid back bar environment with cheap and no-hassle sex on offer. Disconnected from Walking Street, this area feels like an earlier time in the Philippines.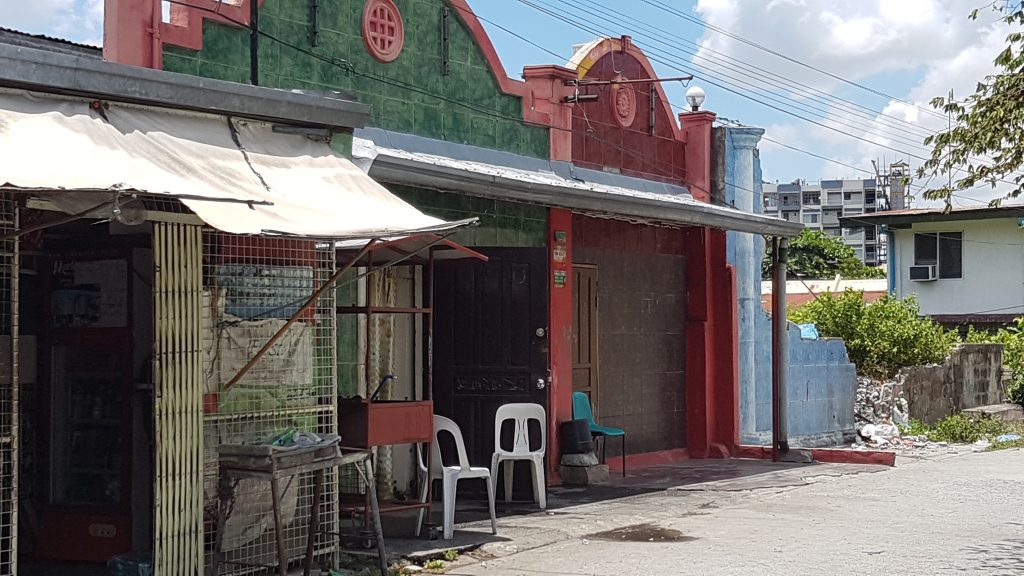 Blowjob bars
"I like these places, they grab your dick and stuff."
Rolls Eyes.
Was this guy a rookie or what? He's never had a bargirl grab his crotch? We strolled up Fields Avenue past the familiar bars of Det-5 and Garfield's where he made a left turn down an alley. There we came on two doors with small porches and fully clothed young ladies sitting outside. Not particularly attractive but that's par for this area sometimes.
To say they were bars is a stretch, they looked more like repurposed apartments.
Inside, there was barely enough room for the two of us and the 5 girls who pounced. On me.
There was nowhere to run, except to turn tail out the door. My new pal snapped up his regular girl and grinned at me, believing he'd done me a favor. The girls shuffled me to the bench and each of them pushed in on me, almost smothering me. I felt hands untucking my shirt, massaging my legs under my shorts, and hands on my crotch urging a hardening member. One girl laid her body on my shoulder and shoved her tongue in my mouth, the rum in her breath overpowering.
"You want blowjob? 1,500 pesos right here," said one of them.
Well, I'd finally found one of Angeles City's infamous blowjob bars, and it wasn't even on Blow Row. It was in an alley behind what I call Perimeter Zone 2 on Fields Avenue about a mile down from Walking Street.
You could get a blowjob right in the bar or take your girl upstairs and do more. Drinks prices ran about the same as other bars at 250 pesos for ladies drinks and 80 pesos for beers.
To find these bars, look for Garfields in Perimeter Zone 2 and turn down the alley next to it.
Girlie Bars
The row of bars on the Perimeter area of Fields Avenue is a convenient area to do your barhopping, whether enjoying an evening of beer and pool or perusing the lineup of available hotties.
Bars in this area open in the afternoon, as early as noon and close somewhat early around 10 pm. All are girlie bars, with a stage and dancers in bikinis, with a couple exceptions that maintain a pure sports and pool environment.
Barfines: 2,000 – 3,000 php
Det 5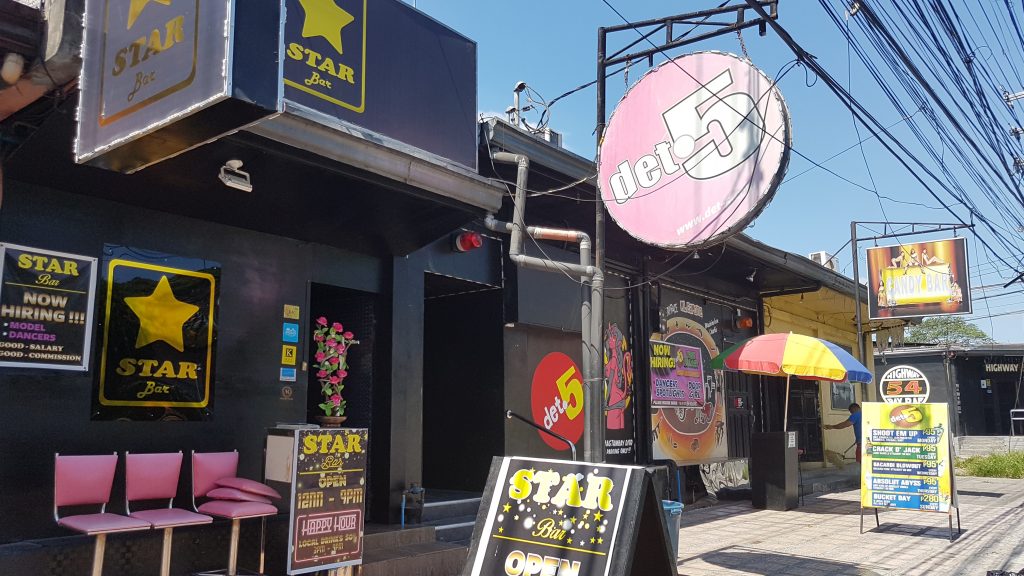 Det 5 is the popular bar in this section with barfines at the standard 2,500 pesos.
Det 5 sits next to a few other bars with similar pricing.
In this area of Angeles City, you'll find more career-oriented bargirls, ones that have been working a while. The upside of this is you won't have to wade through the cherry girls and picky girls. Often, the girl you pick will go with you. She may not wish to stay all night, however.
Mischief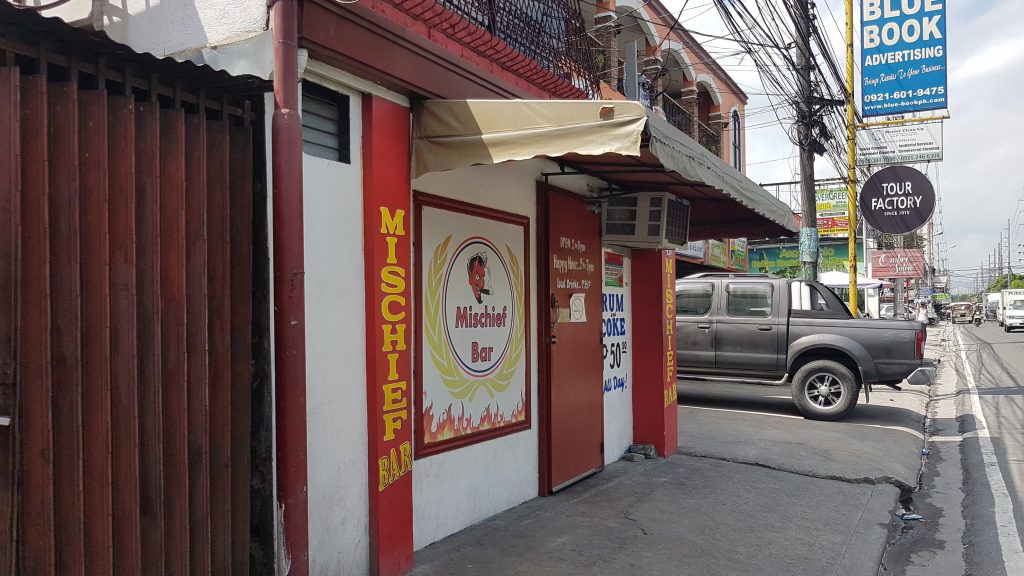 My favorite bar on Perimeter. It's a cozy, small bar with wait staff, mama-sans, and dancers that have worked there for years, as well as the occasional new girl. This is the place to drink and have fun and take home a girl who will give you good service and probably won't complain about leaving early.
Barfines at Mischief are usually on the low end, currently at 2,000 pesos.
Restaurants nearby
There are several eateries and street food vendors in the area. A couple of the nicer places with a full menu are Puzzles Cafe and Brettos.
Puzzles
A few steps from the action near Det 5 is an unassuming little cafe sitting under the Clarkview hotel. A favorite for its American dishes.
Brettos
Not to be confused with Bretto's Restaurant and pool hall (and notorious ladyboy hangout) on Walking Street, Bretto's Deli is a full meat shop with fresh sandwiches and small store with a deli counter. Good for stocking up your hotel with light foods you won't find in most Angeles City restaurants.
Perimeter Lodging
An area for the budget conscious traveler, most hotels in this area are of the no frills variety. Among those, Rumi Apartelle seems a class above with comfortable rooms and attentive staff. Lewis Grand is the notable Luxury exception in this area.
Rumi Apartelle
Rumi Apartelle is set a couple blocks back from Fields and therefor tends to be a quiet stay. Walking past, you'll always see fellow visitors sitting out enjoying a beer or breakfast. Rooms are small but comfortable and a great deal.
$15usd on Agoda.
Lewis Grand
The Lewis Grand is a good mid-tier option in Angeles City but with a Luxury feel though beginning to feel a little dated. Built by the same owner who put in High Society… and who later vanished without a trace, no one really knows who stood to benefit so much.

The hotel he left behind does a good job of providing a place for the visiting Gentleman and his lucky lady to do business.

$75usd on Agoda.

See Angeles City Guide for map and info on other parts of Angeles City

Tags: "Angeles City", Philippines