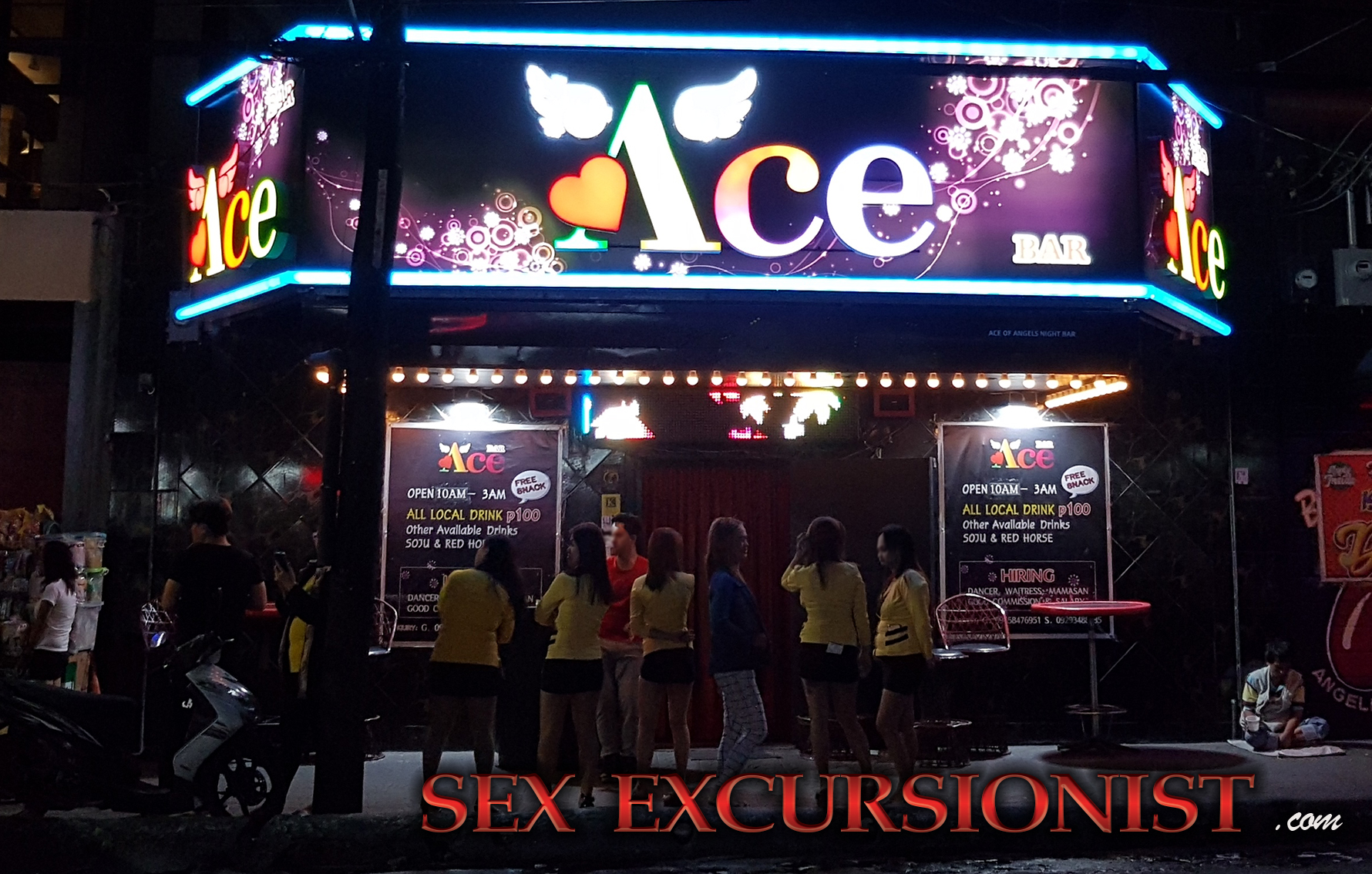 Fields Avenue – Perimeter Zone 1
Nathan Renly | September 12, 2019
Info on Lodging, Restaurants, Bars, and Sex on Fields Avenue, Angeles City
Leaving the west end of Walking Street, past the hip Envy Restaurant, and through the obstacle field that is ladyboy corner, you practically emerge in an earlier time of Angeles City. The bars turn to dives, hawkers and door girls line the small sidewalk, and small markets with knockoffs dot the street — you have just arrived on Fields Avenue.

You will walk past old favorites like Phillies Sports Bar, Camelot Bar, and Margarita Station before the bars begin to spread out and are replaced by convenience stores and eateries. But don't turn around just yet!
The feel here is more raw and naughty, less upscale, and with girls more eager to play the role of your girlfriend, for a night or longer. It is a sort of middle ground between the Walking Street area and the more sleazy, pussy-for-cheap area of Perimeter Zone 2.
What we refer to here as Perimeter Zone 1 extends from the end of Walking Street to the ABC Hotel, the finest place to stay for the sex vacationer wishing to live it up, with an assortment of budget and midrange options in between. If choosing not to stay in the heart of Walking Street, this area provides a nice alternative with cheap eating options while still in walking distance to most bars.
Fields Avenue bars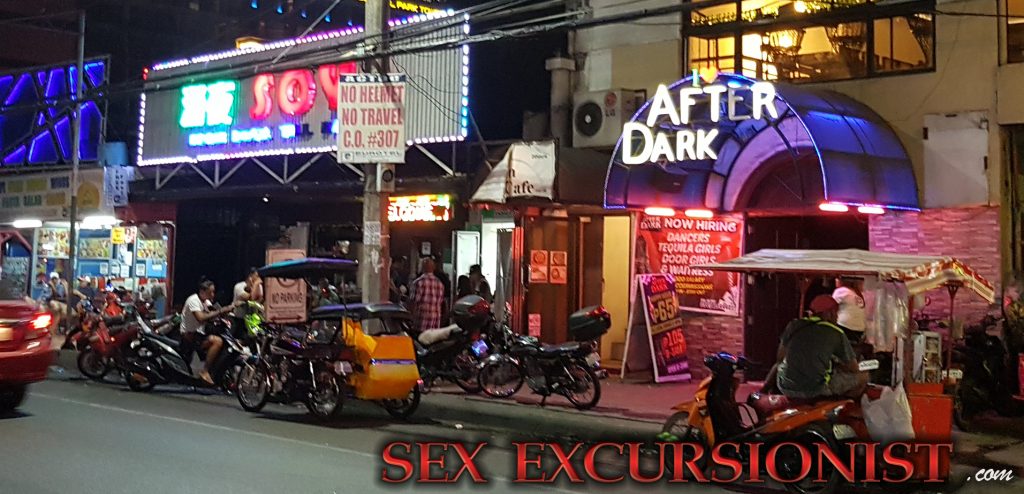 When I visit the bars in this area, it feels more like the old Angeles City. Most of the bars have a simple layout of a short stage running one wall and benches on the opposite.
There tend to be less expectations as well, with many men sitting for hours chatting with different girls, enjoying their beers, or merely leering at the dancers. Buying at least one drink upon sitting down is required, but being a Cheap Charlie afterward is generally accepted. I recommend this strategy only after a short look around. No reason to even buy the first drink if there seems to be no reason to stay, plenty of other bars.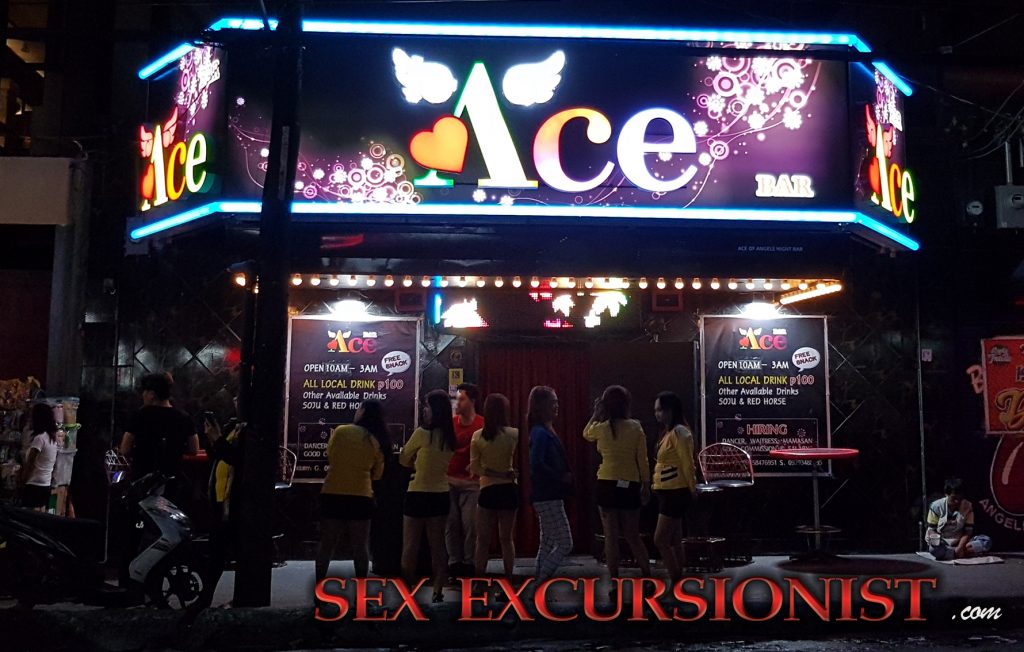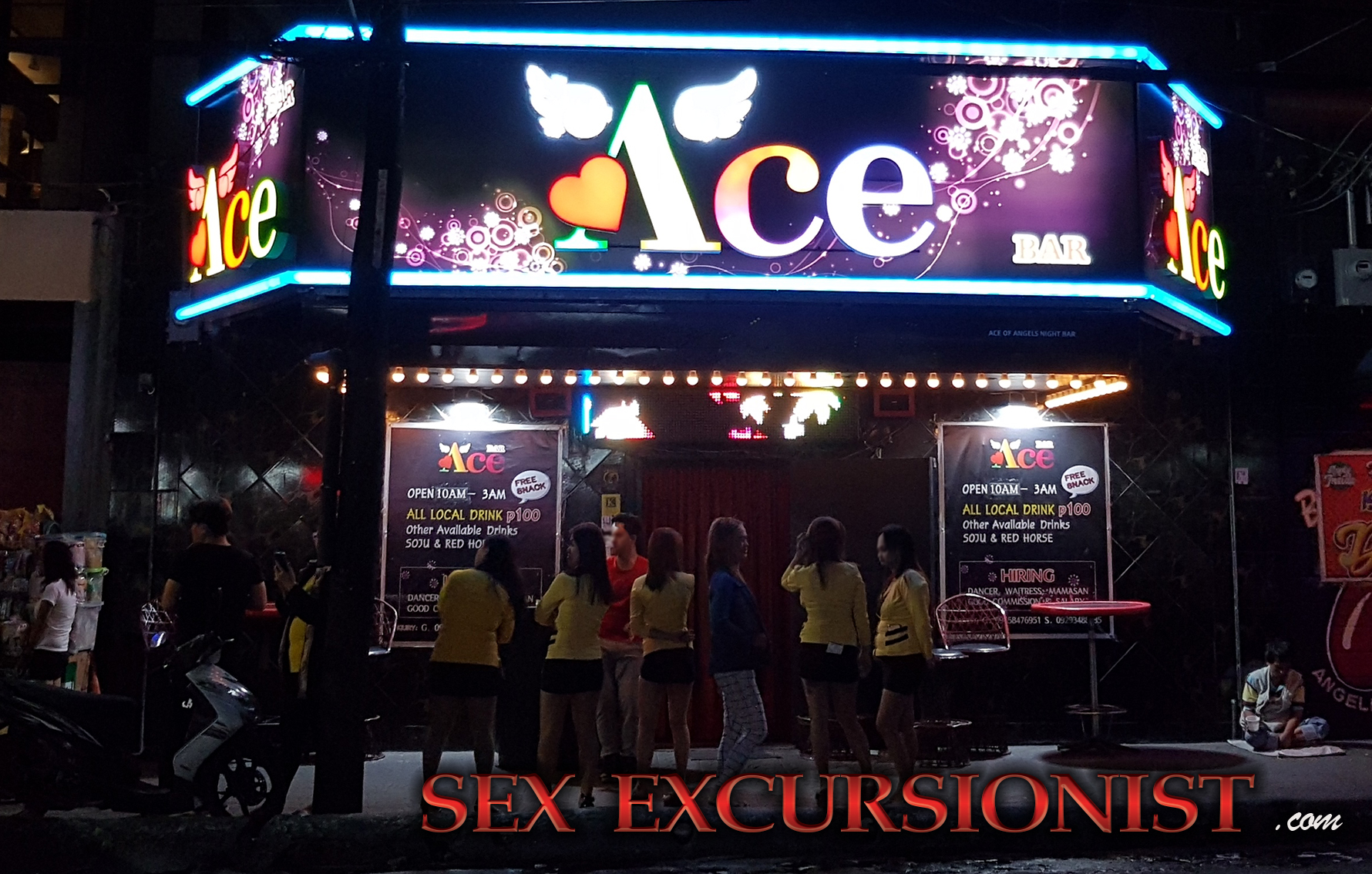 Bars in this area have a one-price barfine for the ladies. Barfine implies intercourse unless stated otherwise. Important tip: Square with the girl beforehand how long she will stay. Often, your expectations will differ from hers.
Lowest Price – 2,500php fee to bar and girl, excludes tip
Barfines have increased rapidly post-2014. Expect up to 3,500php quoted.
Ladies Drinks – 250php
Novice Bargirls
In the row of bars extending from Envy, I've met many girls "straight off the bus." These bars employ mama-sans whose job is to recruit fresh girls. Many girls from provinces come to Angeles City without a clue as to the different venues for work.
In fact, the girl who inspired my first novel "Sex Excursionist" came from a small bar in this area. She was an adorable girl and I fell in love the moment she grabbed my arm and ushered me inside. While not particularly uncommon for me to fall in love in Angeles, when that first spark lasts past the night, it will be with an innocent girl, not yet corrupted by the bargirl life.
Best Bar for Billiards and Girls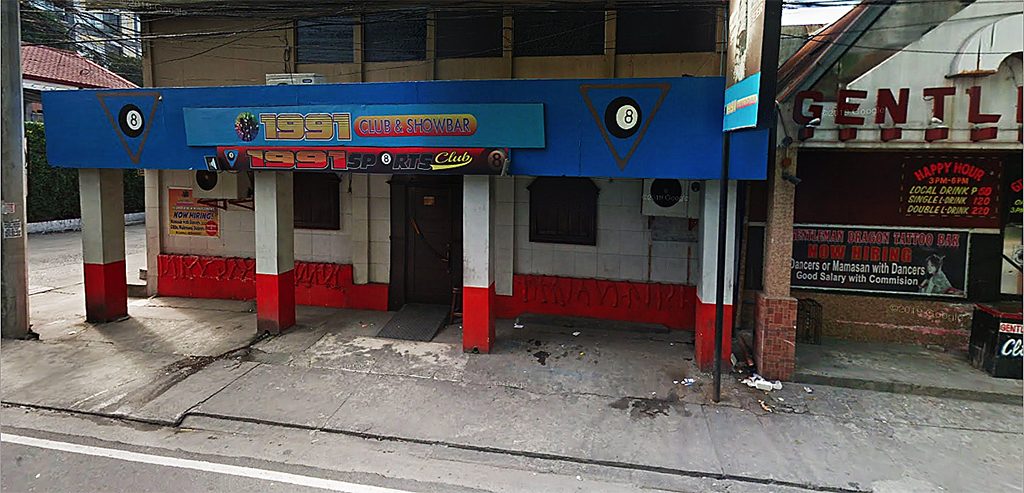 Eruption Bar is my favorite for billiards with two nice tables and always players around to offer a game, from Filipino to American to Japanese. The bar opens early around noon and stays open until midnight or later and at times offer shows that bring girls from other bars on perimeter. Girls at this bar also tend to be a level above.
Eruption bar is located slightly down from ABC Hotel on Fields Avenue and front signage now says 1991, though a sign on the side still says Eruption. Everyone still calls it Eruptions.
Next to Eruptions is the small bar Gentlemans that also offers a pool table and mostly Filipinos for opponents.
Best Bar for Fun with Girls
PonyTails can be hit or miss in some seasons, but I've enjoyed many visits here with girls who tend to flirt more and create a fun atmosphere vs the dull stage-standers of other bars.
Best rooftop bar
Aqua, on the roof of ABC Hotel, is a can't miss attraction for day or evening fun. Whether you prefer to kick back and enjoy the pool by yourself, bring your date for a meal and swimming, or party the night away with a freelancer, this is your place.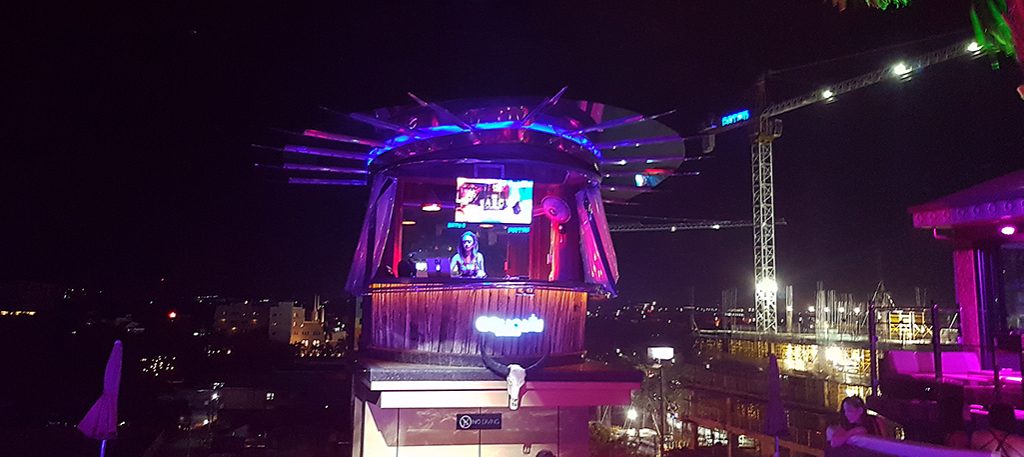 Non-hotel guests pay a 500 peso fee to enter and that includes your first 500 in drinks. To take full advantage of this, I often make a whole day of my visit. I will arrive in the afternoon and use the gym, which is included in the admission. Afterwards, I'll shower and have a protein smoothie with a dip in the jacuzzi or head straight up for a nice meal. Try the sizzling sisig. If I haven't brought a girl with me (free admission for ladies), freelancers and groups of girls out for the night begin showing up around 7pm, so I'm not alone for long.
Fields Avenue Shopping and Eating
Some things to pass the time in this area (besides drinking and girls) include a market with cheap clothing and accessories, karaoke, and massage.
Best Karaoke Bar
Kimchi Restaurant and Resto bar is my pick for Karaoke. There are two styles of karaoke in the Philippines – Filipino and Korean. Here is sort of a mix of Korean food and Filipino Karaoke. Whereas Korean karaoke is locked in a room to enjoy with friends, Filipino karaoke pits all the would-be singers against each other in the open bar, though often with a professional singer to break up the amateur onslaught. What I enjoy about this place is the better than average performers hired (by that, I mean sexy!).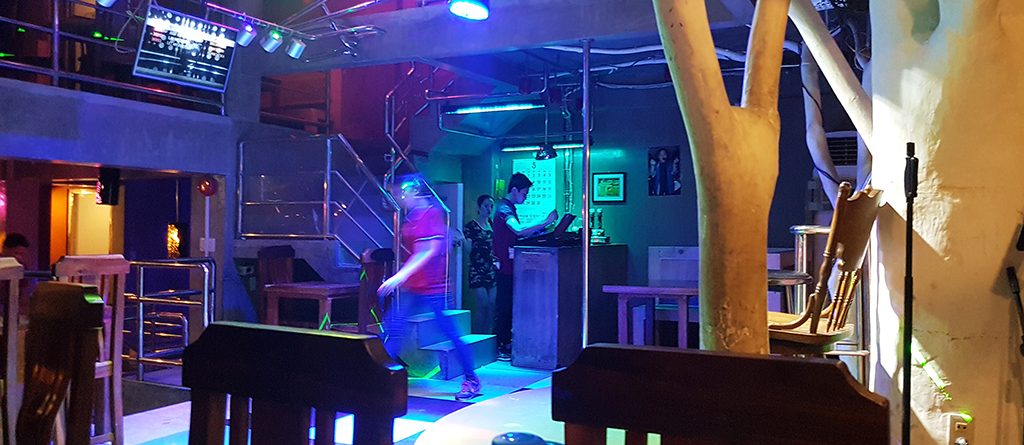 Kimchi Resto bar is 3 floors with the karaoke up top. The menu serves Korean and Filipino food and you will find the prices lower than other venues on Walking Street. The food is good, though I tend to stick with fried chicken and rice. The karaoke keeps going until late in the night and you are free to sit at a table enjoying the performances and joining in if you have the courage!
Best Restaurant
Margarita Station.
Can't go wrong here and its longevity in Angeles City is testament to its menu and friendly staff. Whether sitting at the window gawking at the bargirls and their dates passing by, taking up a few games of pool, or relaxing in a booth with your date, Margarita Station is a nice place to spend the evening.
The menu ranges from hamburgers and pizza Filipino and Thai. My favorite is Thursdays and Saturdays when the patio in the back opens up with a Mongolian grill.
Best Shopping – Main Gate Market
Update November 2019: This area has changed into an amusement park / carnival gambling games. The night markets have spread around the block.
Walking further down from Kimchi and Camelot, past JJ's supermarket and some money changers, the stores open on the left side, opposite the jeepney terminal referred to as Checkpoint. Looking past checkpoint is where the old Main Gate to Clark Airforce base stood and is now the Main Gate jeepney terminal ferrying the loads of underpaid Filipino workers into Clark to work for the many Korean companies. But I digress…

On the left of Fields Avenue are stalls lining an open space offering clothes and accessories. Cheap knockoffs but where else can you buy shirts for $2? Shoes for $5. It's a favorite among the bargirls. They buy their clothes here, both work clothes and party clothes. You can't go wrong by bringing a date here to shop, it's cheap and they will appreciate it even more than going to SM Mall.
Be warned: This is a bartering area! The best strategy is to offer a low price and stick to it. If the vendor won't sell it for your price, walk to the next stall until you find the same product and increase your price a bit. Find the lowest price they will sell it for.
Best Massage near Fields Avenue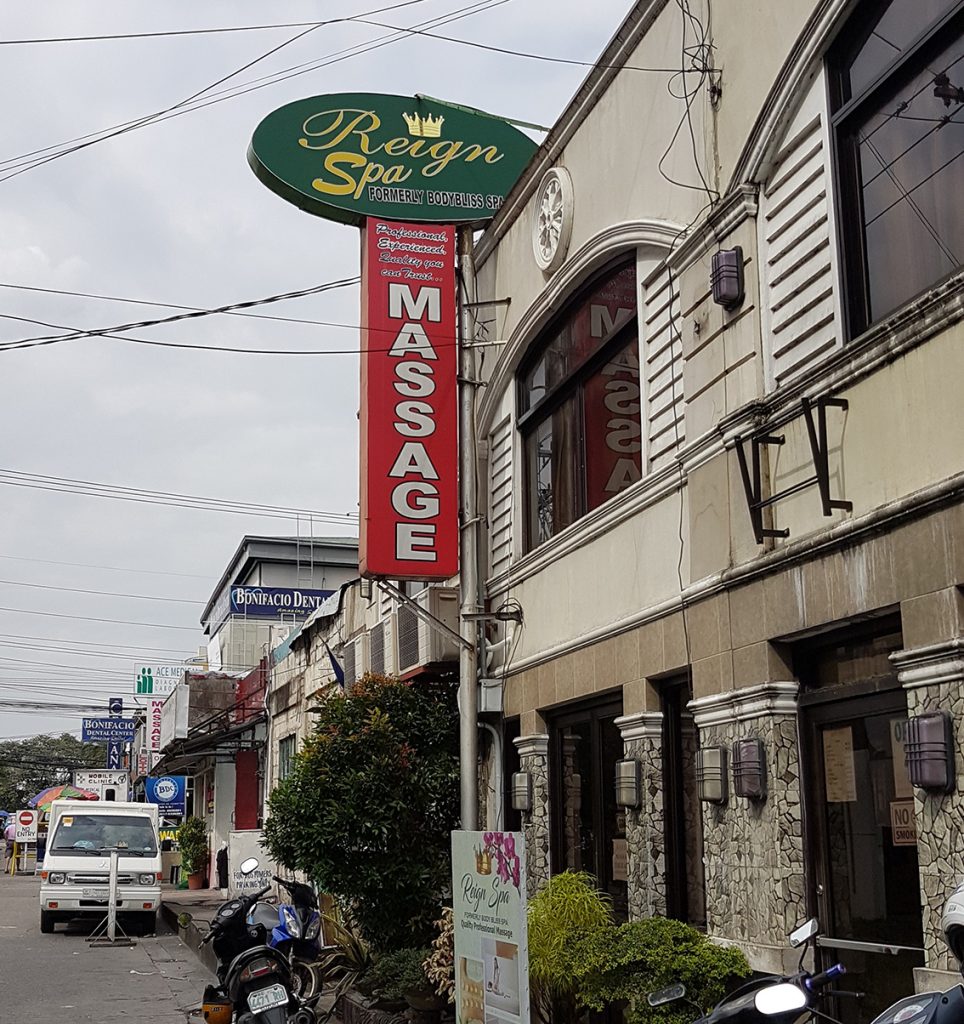 Since around 2015, I've been a fan of Reign Spa located on Teodoro St, behind the South Star Pharmacy. Also down this street are cheaper massage shops with hawkers, ignore them. Reign Spa is in a small shop by itself and is likely not to have anyone outside ushering you in, they are all busy.
The rooms are clean, the masseuses are well trained and friendly, and you will get the same massage each time you go. Beware the main massage room could seem a little impersonal with only curtains and sometimes a tight space getting to and from the bed.
STD Clinic in Angeles City
Hey, I hope you don't need it, but Angeles City is renowned for its condomless sex. And its chlamydia. Near Reign spa is a small store called Ace Hub and above there is a clinic of the "get right in, get some antibiotics, and get out" variety. Wish I could say I've never been there. It's a bargain too, costing less than 500 pesos.
Hotels on Fields Perimeter Zone 1
A wide selection of hotels in this area range from the posh ABC Hotel averaging over $100usd per night to budget options like Red Doorz as low as $20 per night. With these hotels, location is good with most bars in walking distance and a range of food options.
Best High-end Hotel – ABC Hotel, Angeles City
"Best Party Hotel in the World." – Agoda Reviewer
"You only live once!" – Hotel Motto
>> More Info on ABC Hotel Hotel <<
If money is no object for your stay in Angeles City, this should be your choice of stays. The rooms are luxurious, the staff is superb, the amenities are excellent, the food is topnotch, and the on property pools and bar venues will entertain you throughout the night.
And while it may be the most expensive option in Angeles City, the room price would be only slightly above-average for most parts of Western countries. For a hotel of this quality in New York, for example, I would expect to pay twice this amount.
Your stay here should consist of breakfast for you and your lady at the Vintage hall or in your room with room service and another pop at your employed lady, of course. Then relax in the lounge and pool area on the first floor before heading to the roof for a workout, sauna, and late-lunch at Aqua.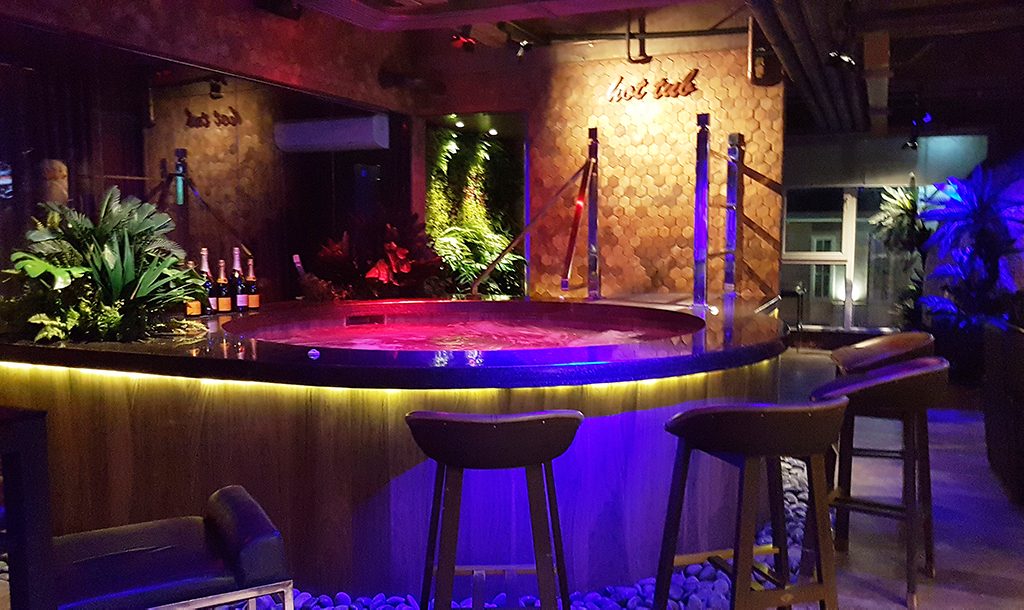 After your shower, either head back upstairs to find a beautiful freelancer or barhop to find your lucky lady. For dinner, take her to either VarAsia for its all you can eat sushi menu or for Thai cuisine at the new Spice Road restaurant, where you can people watch on Fields Avenue.
Then, retire to your room to soak up the feel of ABC with your companion who will feel pampered and impressed, and likely to give you good service in exchange. Hopefully you opted for the Aqua Suite with its large bathtub to get cozy with your newfound love.
$100+ on Agoda
Best Mid-range Hotel – Devera Hotel
"Perfect service and silent rest" – Agoda Reviewer
I have a friend who swears by the Devera Hotel, even staying for a whole month at a discounted rate.
Rooms are modern with wood furniture and soft queen size beds. The rooftop restaurant "D View" provides a view with your morning coffee. The location is good sitting a few doors down from ABC hotel, away from the congestion close to Walking Street but still with plenty of bar and restaurant options around. A fine choice for the single traveler.
$35 on Agoda
Best Budget Hotel – RedDoorz @ Fields Avenue
"Value for money" – Agoda Reviewer
>> More on RedDoorz Fields Avenue <<

This is about as cheap as it gets near the area around Fields, at least if you want an Air Conditioner and private bathroom.

The rooms here have wall mounted aircons which are a plus for these budget hotels. You should avoid hotels with window-mounted aircons as they will tend to be more noisy. That said, noise can be an issue anywhere in the Philippines, especially the more budget you get, try to request a room that faces away from Fields Avenue.

Besides that, the rooms are big with tiled floor and wicker furniture, and there is even a small pool.

$14 on Agoda

Tags: "Angeles City", Fields Avenue