Fields Avenue / Angeles City quick guide
updated September 12, 2019
Sex Excursionist is set in the Red-light District of Angeles City, Philippines. For a novel that introduces you to the life of a single male traveler in A.C., Sex Excursionist vol 1 : Cherries, Love, and Line crossing in Angeles City Philippines, is a realistic look at the bars, girls, and other travelers one would encounter on a three week vacation.
The Red-light District is focused on Fields Avenue from MacArthur Highway to the Clarkton Hotel separated into a few clusters each with their own personality. The main section of Walking Street is the densest cluster and has the most options for hotels and restaurants.
Down Fields Avenue, eventually turning into Don Juico Ave, girly bars usually referred to as Perimeter bars line the road in 3 distinct sections. These bars generally have lower prices and cater to more budget conscience travelers. The further you travel from Walking Street, the number and cost of hotels goes down measurably.
Angeles City Red-light district map
Walking Street Zone
Walking Street is a section of Fields Avenue that closes to vehicle traffic at night and is easily recognized by the large signs on each end. Most of the city's girly bars and nightlife are located in this half mile section, and a decent supply of hotel rooms, ranging from budget to mid-tier, are available just behind it.
Girly Bars
The big bars in the city such as Dollhouse, Club Equus, and Club Atlantis are located here, as well as many small to medium sized bars, such as Arcadia. Drinks on Walking Street run about 100 pesos with ladies drinks usually at 250 pesos. Barfines less than 3000 pesos are rare though can be found in some of the smaller bars.
The larger bars typically open late at around 8pm and stay open until the early morning while the smaller bars on Walking Street open at various times through the day, but it is unusual to find bars here open in the early afternoon.
Barfines: 2500-4000
Drinks: 80-150
Ladies drinks: 250
High Society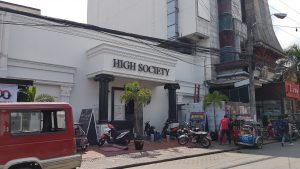 High Society is a well-designed and popular late night dance club opening its doors at 10pm and is usually packed by midnight thumping the night away until the sun rises the next day. Freelancers can be found here as well as groups of local girls out for a night. Most of the partiers are made up of sex tourists and their dates for the night.
Prices for freelancers start at 1,000 pesos.
Gossip
Gossip is an open bar on Walking Street that caters to visitors looking to sit down for drinks and/or smoke Shisha, although the recent ban on smoking moved the Shisha to a back room. The waitresses are beautiful, and though not for sale, can liven up the night before heading out to find a girl in one of the surrounding bars.
Tequila Reef
Tequila Reef is a popular restaurant just behind Walking Street on A. Santos St and well positioned from hotels such as Pacific Breeze, Penthouse, and Central Park. The specialty is Mexican but the menu ranges from Pizza to American to Filipino and breakfast through late night. The staff is friendly and as usual, cute waitresses.
Pacific Breeze Hotel
Pacific Breeze Hotel is located just behind Walking Street and off A. Santos Street the opposite direction from Tequila Reef. The hotel was built in the 2000s and rates run from 2100 pesos. It is in a quite section of town and employs numerous security and door attendants that will make you feel safe, and keep any girls from making a break for it.
Rooms start at 2100 pesos.
Central Park Hotel
Central Park Tower is a High-rise hotel of a higher class of rooms and service than most of the surrounding hotels. The rooftop infinity pool and restaurant is a relaxing place to start the day and an impressive venue for evening drinks.
As the two are owned by the same group, the menu at Central Park is similar to the Pacific Breeze. It has a wide range of selections from breakfast to dinner and international and local fare.
The rooms start at 3,300 pesos.
As you walk down Fields Avenue away from Walking Street and towards the jeepney terminal and Don Juico Ave, you will walk past various small hotels and bars until reaching the area around ABC Hotel. I call this Perimeter Zone 1 though it is mainly just an extension of Walking Street with slightly lower prices.
As you progress further away from Walking Street, the feel of the bars evolve from glitzy and high expectations to more laid back and appreciative, and especially just past ABC Hotel, the drink prices and barfines will lower considerably.
The bars here open at various times, with Emotions being the earliest in the city at 10am, though most open later in the day.
Body Bliss Massage (now Reign Spa)
Reign Spa Massage is located on a back road behind Fields Avenue in the Perimeter I zone. Look for the cross streets near Jollibee and walk the opposite direction.
Reign Spa is a popular, clean, and well-managed spa that employs experienced and trained massage therapists. No funny business here, relax and enjoy your massage.
Swedish 1 hr: 400 pesos
See more on Perimeter Zone 1 (Fields Avenue)
This zone runs along Don Juico Ave from the Petron station to the Mischief Bar. This is smack in Perimeter and the bars are smaller and more laid back and cater to drinkers and customers looking for a better deal. Barfines start at 1800 pesos and drinks are as low as 60 pesos in some bars with ladies drinks starting at 120.
Talent varies in this section of about 7 bars and while many of the girls are unattractive and just looking to make their daily salary, some beautiful girls can be found.
Most of the bars in this section open around 2pm and close between 10 and midnight. Stop in early to find the best selection before they are barfined by other sex tourists!
Bretto's
Located nearby is Bretto's Deli, a good place to pick up cold sandwiches in Angeles City. Also on menu are hamburgers and fried American fare. The average plate will run about 300 pesos.
There is also a deli shop where you can pick up deli meats and other foods to build your own meals at the hotel.
More on Angeles City Perimeter Zone 2
Perimeter Zone 3
This is a small selection of bars extending a short ways out from the Clarkton hotel, including the Pan Am bar located inside the hotel itself. These bars have a laid back atmosphere with slightly higher barfines usually starting at 2500 pesos. They open in the afternoon and close early.

The talent here may be higher than zone 2 and there is a large Korean clientele.

Tags: "Angeles City"