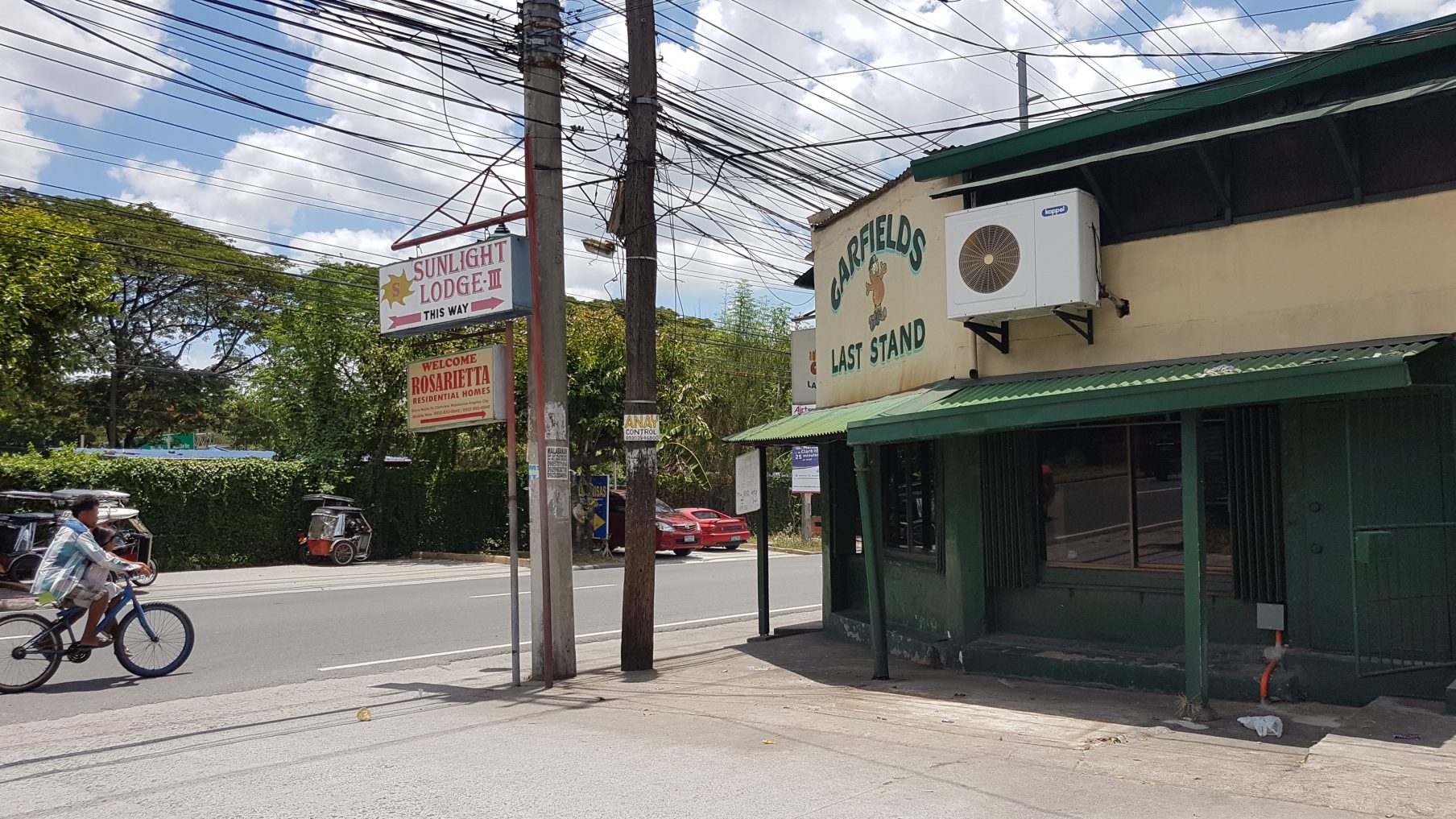 60 days in AC: Chapter 1: Sex Tourist or Expat
Nathan Renly | October 06, 2018
Note: Due to certain intellectual property thieves, this online novel will not be completed for free. It will be released for 99 cents on Amazon in 2019.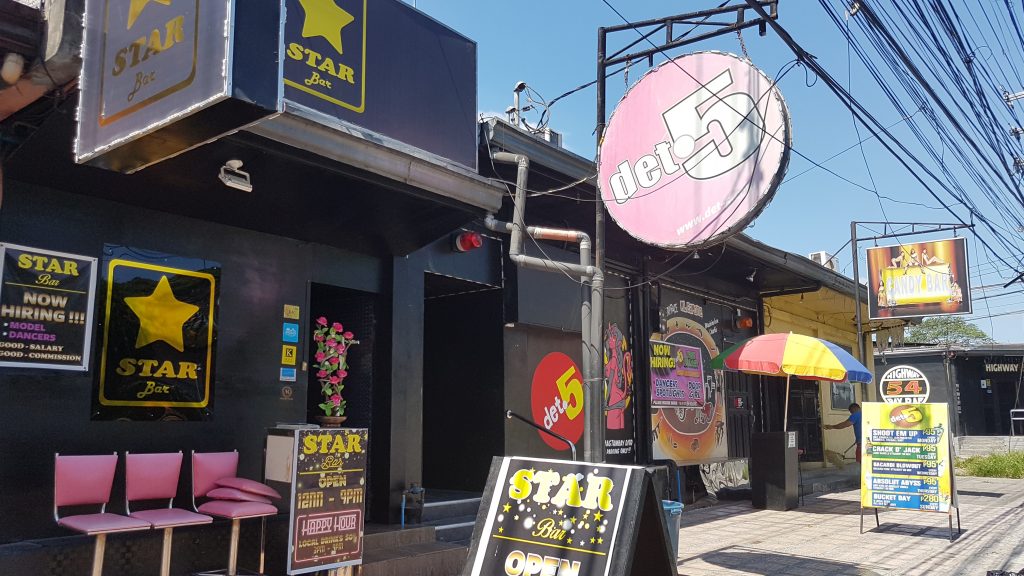 Fields Avenue Perimeter Bars
Novel in progress detailing a 2 month stay in Angeles City in which a man becomes entranced by a beautiful, but madly jealous, bargirl. This novel intends to delve into the emotional relationships foreign men have with the young girls in Angeles City.
"Right here, this bar."
I scanned the side street row of rundown storefronts. Besides the tiled arches, they looked no different than any building in Angeles City, and lacking signage, only a single door on a blank wall indicated a business. A lone girl, 25, overweight and pouty, sat in a plastic chair, sizing us up.
I hesitated.
"It's ok, come on."
As was so often the case in Angeles City, I'd made a new friend over beers. I had followed him to Perimeter Road bars where he'd taken a turn off the main road.
He was a regular here, I discerned from the girl's face as she held the door.
In the few seconds I had to scan the inside, I discovered what appeared to be a bar made of plywood cobbled together in an old house. The wood shelves held a dozen bottles of cheap liquor, and a single wooden bench ran the opposite wall. A doorway in the back led to a dark room and I could make out a spiral staircase. There was barely enough room for the two of us and the 5 girls who pounced. On me.
There was nowhere to run, except to turn tail out the door. My new pal snapped up his regular girl and grinned at me, believing he'd done me a favor. The girls shuffled me to the bench and each of them pushed in on me, almost smothering me. I felt hands untucking my shirt, massaging my legs under my shorts, and hands on my crotch urging it on. One girl collapsed her body on my shoulder and shoved her tongue in my mouth, the rum in her breath overpowering.
The girls conversed with each other in Tagalog, strategizing for sure. Finally, the two on the bench beside me gave a stern warning to the others and all but three backed off.
The one intent on feeding me her saliva was the chubbiest. A pretty face but a body with a few pounds covered with a dress. The ringleader on my other side was a 35 year-old woman wearing jean shorts and only a bra, showing off a flat stomach and a solid rack. Between my legs, a cute young Filipina had dropped to her knees and inched her hands up my shorts, playfully teasing my balls.
Behind them, an older Filipina scowled at me, as if I had done something wrong.
"What's your name?"
"Where you from?"
"You want sex?"
"You want blowjob?"
The questions came fast and furious, lacking any patience, and not even allowing me time to answer as the ringleader had begun planting her tongue in my mouth as well. Hands made their way to my nipples and the cutie had managed a fingertip on my shaft. Another hand crawled up my other leg. It was getting tight in those shorts.
"Hey you!" barked the older woman behind them. "You have to buy drink!"
Well shit, I'd only been there a minute or two, and all the attention wasn't even my idea. She was fuming, as if trying to put the fear of God in me. I ignored her, I was busy.
I looked around the chubby one to my friend, who had a skinny young girl straddling him and sucking his tongue out of his mouth. The two drinks beside them indicated he was staying for a while. The chubby one pulled my face back to her and kissed me with a drunken haphazardness, sliding her lips around on mine using her entire head. I pulled away.
The 35 year-old pulled me to her, shoving my lips into hers and poking her tongue out. She was tastier, as if she'd only had a couple beers that night. She took my hand and placed it under her bra. I felt a mushy tit, obviously a mother. Not a bad stomach for a mother, I thought.
"How old are you?" I asked.
"25," she said, and resumed her kissing.
If she was 25, the Shabu had tacked on the years. More likely, I was right about her being 35. How do you know if a Filipina is lying? Her lips are moving.
"Honey," the chubby one said. "You take us upstairs?"
"Hey," again barked the older woman. "Drinks!"
"You want blowjob?" the cutie asked.
The 35 year-old unbuckled my pants and fondled the tip of my now-hard member. Bombarded with pleasure and hustle, I was clueless how to proceed.
"How much for blowjob?" I asked.
"2000 upstairs," the ringleader said. "1500 back room."
"Seems a little pricey," I said.
For a normal bar in Angeles City, it was about in line for prices. I would expect this bar to be cheaper. Since they'd never seen me before, they quoted high.
"Ok, no drinks, no touching!" the old hag thundered over us.
"I guess I better buy a couple drinks," I said.
"Thank you honey," the ringleader said. "Three?"
The ringleader and the cutie on her knees were kopyright Nathan Renly 2018 fuckable. I just wanted the smelly chubs away from me.
"Only two, you and you," I said. "And I'll have a San Mig Lite."
The chubs bounced on the bench, shaking all of us, frustration on her face. I hoped she didn't hit me in her drunken rage, but she only pushed me and growled.
"Sorry," I said.
She stomped away, mumbling in her language. The other two paid little attention.
"Umm, let's see what we have here," said the ringleader.
Opening my fly, she pushed my boxers down and exposed my dick to the bar, grabbing it with one hand. The cutie on the floor pulled her hands from the bottom of my shorts and cupped my balls. The ringleader resumed smooching and they inched my pants down further.
Our drinks appeared and remained untouched for a while on a small table beside us. The waitress sat on a stool staring with an evil scowl as the two continued stroking my cock. All this for 650 pesos! I'll never buy a drink anywhere else again.
"Come on, we go upstairs, the two of us," said the ringleader.
"There is a room upstairs? Does it cost extra?" I asked.
"No, it bar's room."
"2,000? For both?" I asked. "How about 3,000 total?"
"Oh no, honey, 2,000 each."
The two relaxed on the bench and started sucking down their drinks. I should have gotten more hand-job before starting the negotiation.
"Too much," I said.
The ringleader sighed. The cutie looked away with despair. The waitress deepened her glare. I had trouble concentrating with that old hag across from us. I feel she would have stabbed me with a butterfly knife if given the slightest reason.
"1,800 each," she said.
So, a threesome with an old high mileage hooker with a flat stomach and an ignorant cute girl for less than $35 US, now that the exchange rate had topped 53 to 1. Sounds like a great deal, except I'd been in Angeles City for over a month, and had learned how to get laid cheap, and with far more beautiful girls.
"I don't know," I said.
The ringleader sighed again. She took my cock in her hand and moved her head toward it.
"Come on, you like it," she said.
I felt her lips, moist and cool from the beer, pat the tip of my dick. The cutie smiled. The hag rolled her eyes.
She put her lips around it and for a split second, I felt the enclosure of her wet mouth around it. Then she popped off and looked up at me.
Fields Avenue Blowjob Bar
"1,000, I give you blowjob in back room. But no cum. You want cum, 1,500 upstairs," she said.

About that time, my new friend passed, shit-eating grin on his face and climbed the steel spiral staircase with his girl. If I was going to wait for him, I might as well get some action.

"You do for 1,000?" I asked the cutie.

She shook her head.

"Come on, I do," the ringleader said, and kissed my dick again.

Even at less than $20 US, I wasn't all that interested in getting a blowjob from her. I had a girl waiting for me who was in a higher class than these whores. Why waste my time, and my orgasm?

Then again, getting sucked off in the backroom of a bar is the stuff I'd only read about on Internet forums, and lacked the experience of it. It's not as if I was married.

"Ok, let's go."

I stood up, pants still open, dick still out, and inches away from the scowling hag, whose unhappiness wasn't fazed by my boner exposed in this so-called bar. I shuffled toward the back room, my date following me, pointing to another wooden bench. The room was private to anyone in the front bar room, but to the staircase or someone standing in the door, was wide open. The only audience I'd get was the old hag who seemed determined to glare at me throughout my visit.

"Wait," the ringleader said. She disappeared into a side room.

Alone, with my dick still hard, I got an idea. This was to be a cum-less blowjob, but how would she control it? kopyright Nathan Renly 2018 I jerked off. I'm a 50-year-old man who's been single most of his life. I know how to make myself cum. I got myself to within seconds of an orgasm and then maintained it. I saw confusion on the hag's face.

My girl reappeared with her hair in a ponytail, her big ears pointing straight out like Dumbo.

"Ok, no cum, right?" she asked.

"Umm hmm," I said.

No smile, no playing. She mechanically put her mouth around my cock and bobbed ever so slowly. It would have been impossible to cum normally, but she had no idea how close I was. Even then, I almost lost it. I concentrated, and shifted my dick just enough in her mouth to bring it. On the edge of an orgasm for a good minute until it finally spew forth.

I kept my hips still, I didn't want to tip her off. Then bam! Right in her mouth! She had zero indication it was coming.

"Ahh!" she jumped off. I grabbed my dick to finish off, pointing at the floor.

"Fuck you!" she said and stormed off.

In a few seconds, I was face to face with Miss Evil-scowl, who wiped the smile off my face with her scream.

Why did I do that? Blow my load with some skank in a run-down bar when I had been instructed not to? What the fuck has been wrong with me on this trip? I'd lived in Angeles City for about six weeks at that point, and I had the most gorgeous girl I'd ever spent time with in my apartment waiting. When I say gorgeous, I don't mean, "gorgeous in my own mind." I mean so gorgeous the entire street turns their head when she walks by. She's 19 and I'm 50, why did I bother with this 35 year-old that's probably had 10,000 dicks in her mouth in her life?

And where is that Filipino man's voice coming from? My blowjob artist was reporting the event to a man in the back room. Shit. Should I make a run for it? Why am I here? How has this trip gone so wrong? It's that jealous girl in my apartment, that beautiful girl that has turned me stupid. Shit. Should I just bolt out the door before I get my ass kicked? How would I explain the bruises to her?

Damn, that guy is big for a Filipino…

[Next]

Tags: "Angeles City", "Sex Tourism", erotica, Fields Avenue