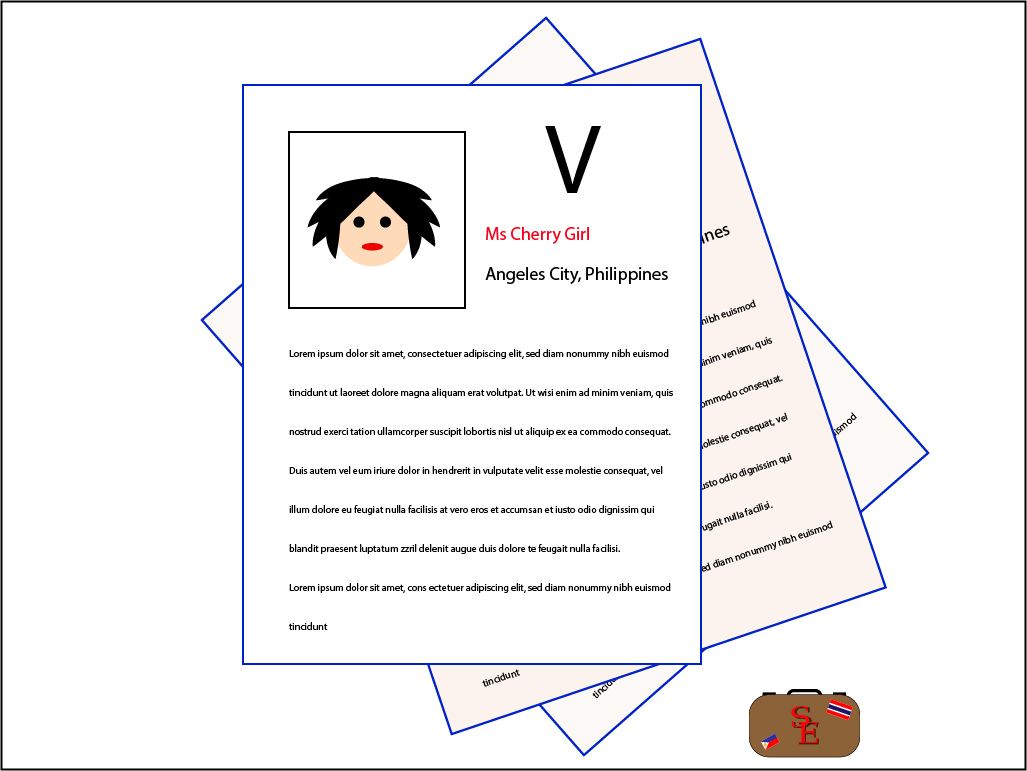 Angeles City: The Door Girl with no ID
Nathan Renly | December 01, 2017
She doesn't have an ID? Scary. Well, it doesn't have to be scary, because she should simply be considered off limits. In Angeles City, every girl working in a bar must wear a set of IDs that show her real name, age, health checkup status, and even her virginity status. There are no exceptions to this, even the horridly fat waitresses and girls who won't leave with a customer must have them, and so my skepticism of her claim that door girls didn't need the IDs was fully justified. I knew that I'd be taking more risk than I should if I brought this sweet, charming, beautiful, albeit young looking girl to my hotel.
Excerpt from Sex Excursionist vol 1.
An Angeles City Door Girl
She was short and wearing flat shoes, the top of her head coming barely to my shoulder and I'm only 5'6" myself. She wore a long black evening dress revealing only her shoulders and arms. Her hair had yellow highlights and her smile was bright and friendly. She had fair skin and the cutest little face, with wide cheeks and a small nose that identified strictly Filipino.
She grabbed on my arm and playfully ushered me into her bar. She could have taken me anywhere, I was enthralled like a teenage boy shocked by the sudden attention of the popular girl on the block. The journey to the seat in the bar was accompanied by the usual "How are you sir?" and "Where you from?" until the destination she had in mind for me was reached and I found myself alone with my friend in the middle of a small standard Angeles City bar. Wait what? She just left… that doesn't usually happen, my sole reason to be in that bar had vanished back through the curtains.
It's not always the case in Angeles City bars that the hottest girls are manning the door, but it was certainly the case in that bar. Including my new love, the other girls outside had far more sex appeal than the dancers inside. I was ready to make a hasty exit, but Jim was tired of walking and eager to put down a San Mig Lite. The bar was typical of Angeles City with a long stage running one wall and booths spanning the opposite wall. It was obviously managed by westerners, easy to determine by the two 50-year-old white guys running around taking care of business. I'm not sure why, but male western papa-sans don't sit well with me. It's probably due to jealousy. I'm not sure what there is to be jealous of though, as pimping a group of uneducated whores in a foreign country sounds more like misery than living a dream.
Our San Migs were enjoyed mostly over conversation of Western Affairs, as the talent in that bar and the typical bar events had long lost their interest to both of us. Within 10-15 minutes, we were off and heading out the door. Upon exiting, I found my girl and captured her under my arm.
"Hey, why did you run away?" I asked.
She blushed and launched into an apology, "I'm sorry, I didn't know you want me to stay! I'm only door girl." Since we had just started our pub crawl, I pulled away from her and continued on.
"She's probably underage or a cherry girl[1]… or both," Jim remarked to me. He wasn't aware at that point that I was quite taken by her, and though the thought had crossed my mind, I didn't appreciate hearing his virtual agreement that I should forget about her and look elsewhere for my companion. As the night went on, I did forget about her a little, but as was the case during many nights in red light districts, I just didn't see another girl that I fancied. Even above average talents at Club Atlantis and Dollhouse, where we stopped into during the pub crawl, didn't offer anything I was interested in.
Angeles City: Cherry Girl Plight
Passing the Lollipop bar, Jim stopped and said, "Hold on, I need to go in here to see someone. I almost never get down here to Walking Street anymore."

Lollipop bar was a slight upgrade from the earlier bars we went into. It had a stage in the middle with booths on either side. I like these kinds of layouts a little more, this way I get to see tits AND ass.

Before we got much past the door, a little spitfire of a bargirl ran over and practically tackled Jim. "Jim Jim! How are you honey?" she asked as if she'd finally been reunited with her long lost love. Jim gave her a big bear hug in a fatherly type of way, and it seemed to me the relationship was more meaningful than a bargirl-customer one.

Jim and she caught up for 10-15 minutes as I scanned the other girls in the bar. Again, none of them caught my eye, but I downed my 3rd San Mig and was starting to get a little second wind, it seemed I would make it through the night without passing out from jet lag.

Finally, Jim let her go and it was just him and I again and he told me the story with her. She had been a cherry girl in the bar when Jim got to know her. She planned on saving her virginity for true love but would barfine for nights of barhopping and fun and one night she left with a young European man.

She ended up back at his hotel room after having too much to drink and a short time later passed out. She woke up the next afternoon to the hotel ringing the room asking when he was going to check out, but he was gone. It was obvious to her they had had sex and there was a small pool of blood in the bed. Afterward, she had called Jim to pick her up and she had stayed with him for a few nights as she tried to come to grips with what had happened.

Had she been raped? Drugged? Well, not even she knew that for sure, but with his hasty departure in the early morning while she lay there asleep, it's likely it wasn't entirely consensual, and he would have ended up in prison in the Philippines had she reported it.

As Jim told me this, I couldn't help but feel a sense of Déjà vu. I'd heard similar stories from bargirls before.

Read the entire story on Amazon!


[1] A virgin. Typically will not barfine, or only for a pub crawl, or may be selling her cherry for a high price. May sometimes be used to refer to a bargirl who won't barfine, virgin or not.

Tags: "Angeles City", "Sex Tourism", Philippines